It's time for My Favourite Reads again, where I share the cool books I've been reading and love hearing about yours.
Although I didn't get as much reading done as I'd like in October, the books I did get through were great fun, and included 3 new-to-me authors that I'd happily read again.
No question about which was my favourite read. Loved this book. LOVED!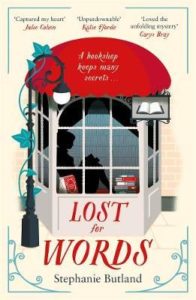 Oh, this book! It made me smile and cry and generally want to cuddle everyone in it. Well, almost everyone.
This was a recommendation from Miranda, who writes on the excellent Breathless in the Bush blog. It sounded smack in my zone so I downloaded a sample and was immediately hooked by the voice of its heroine, the wonderfully named Loveday Cardew.
Loveday is bookish, introverted and calls herself 'hard work' and to be fair she is but, as with all flawed characters, there's a reason for that which you'll discover as you read.
I won't give any more away. You can read the blurb and other reviews for yourself and work out if it's for you. But if you like heart-warming stories about love and books and finding courage, and gorgeous characters you can't help but adore, then take a look at Lost for Words.
Utterly charming.
I enjoy a good scare and like trying new authors, and the premise and setting of Suicide Forest sounded interesting which was more than enough excuse for me to grab this book when I saw it advertised. The title pretty much says it all. This is a book about a forest in Japan near Mount Fuji called Aokigahara. Sadly, it isn't fictional. Aokigahara really is a suicide forest, with many people choosing to end their lives there.
This story is about a disparate group of people whose plans to climb Mount Fuji are waylaid when bad weather sets in. Instead, they choose to explore Aokigahara, with Blair Witch Project (a movie from the late 90s) type consequences. A bit bonkers in places but still a fun horror-thriller, and I enjoyed Bates's writing and will look for more in his World's Scariest Places series. The next one, The Catacombs, sounds cool.
If you're interested in giving Suicide Forest a try, it's currently listed as free on Amazon, Kobo, iBooks and Nook.
Malfi's writing reminded me of Joe Hill, who is an auto-read author for me. After reading The Night Parade I suspect Malfi might become the same.
The Night Parade was an enjoyable post-apocalyptic road-trip tale in which much of the population has been struck down by a strange virus. Hope could lie within an eight-year-old girl except she's on the run with her father, who's wanted for questioning over his wife's death.
My local library has a copy of Malfi's December Park. It's going on my to-read list.
Annie never lets me down. Her romances are sexy, sumptuous and emotional, and the opening scene in this one was an absolute cracker!
The rest of His Majesty's Temporary Bride was just as terrific. Our heroine Cat Dubois's normal job is bodyguarding celebrities but thanks to her uncanny resemblance to Princess Amelie of St Galla, she's been coerced into impersonating the missing princess (can't wait to read Amelie's story). All very simple… But this is an Annie West romance, and nothing is ever that simple.
Cat is tough, smart, and the perfect foil for visiting monarch King Alexander who might look regal and untouchable on the outside, but is a caring, sensitive and honest man inside. He's also totally hot and dead snoggable, and when these two get together… fireworks!
A lovely Cinderella-type romance.
Ah, I do love Ford's books. She's an absolute master of tension and suspense, and Darkest Place was no exception.
This one's set in Newcastle, a city I adore and will be moving back to next year, and I had a fab time recognising landmarks while reading. Darkest Place is clever too. Pretty much everyone was a suspect and there were times when it was equally plausible to think that the heroine Carly's experiences might all be in her head.
Another terrific thriller. Ford's books also tend to have a subtle romance thread that makes them even more appealing.
Hmm. I wonder when her next will be out…
What were your favourite reads of October?