Hello, my Friday-loving lovelies, and welcome to another mouth-watering edition of everyone's favourite food series, Friday Feast!
Things have calmed down a little at Chez Hein now that the initial flurry of Rocking Horse Hill release run-around has passed, which means I can now concentrate better on other things, like my darling Sydney Swans and golf. My boys had a most excellent win last week in the footy. I, in golf, did not. Well, not when it counted. Whupped butt ANZAC day when I went out for a practice hit and then it all fell apart in the comp on Sunday. Sigh.
However, all going well this afternoon I'll become the proud owner of a new 3 wood…
Speaking of afternoon delights, this week's guest has some beautiful afternoon tea recipes to
share. A born and bred country girl living in the central west of NSW, Alissa Callen's books are a wonderful addition to the rural romance genre. It's in the sweeping Australian countryside and small rural towns that she knows so well that Alissa sets her stories. What Love Sounds Like is out in ebook right now, while the first book in her Red Dust Outback series, Beneath Outback Skies, has just hit the shelves in paperback.
The second in the Red Dust Outback series released this week. Check out Down Outback Roads.
DOWN OUTBACK ROADS
Sometimes you need to give yourself permission to fall in love.
Kree Garrett's younger brother Seth is all the family she has left, so when he goes missing in the Australian outback, she doesn't think twice about leaving her American home to find him. When Seth is rescued Kree vows to find a way to thank the small town of Glenalla. It isn't long before she falls in love with the tight-knit rural community. But is it really the town she's falling for?
Ewan Mackenzie has given up everything for his brother's family, but he can never give enough to assuage his guilt at what happened one dark night, years ago . . . Ewan knows he doesn't deserve a second chance at happiness, but when beautiful, open-hearted Kree stays to fight to save his home town, he finds it hard to keep his distance.
Can Kree and Ewan leave their pasts behind for long enough to find a future together?
Doesn't that sound romantic? Ahh. Makes my heart all a-flutter reading that. You can own a copy right now with just a few clickety-clicks. Purchase your ebook copy of Down Outback Roads from Amazon for Kindle, Kobo, iBooks, Google Play, JB Hi-Fi or your favourite ebook retailer.
Now settle back with cuppa and munch on this!
Afternoon Tea Treats with Alissa Callen
In my new release, Down Outback Roads, I had so much fun using food as a way to integrate the two different worlds of my main characters. Kree Garrett is from the Rocky Mountains in America while Ewan Mackenzie is from the small rural town of Glenalla, Australia.
Kree quickly develops a liking for iconic Aussie lamingtons while Ewan, who initially can't bring himself to eat peanut butter with chocolate, crosses to the dark side and tries American peanut butter and chocolate chip cookies. Much to the delight of his small twin nephews, quietly-spoken Darby and mischievous Braye, he finds the cookies not only edible but also delicious and goes back for seconds.
Lamingtons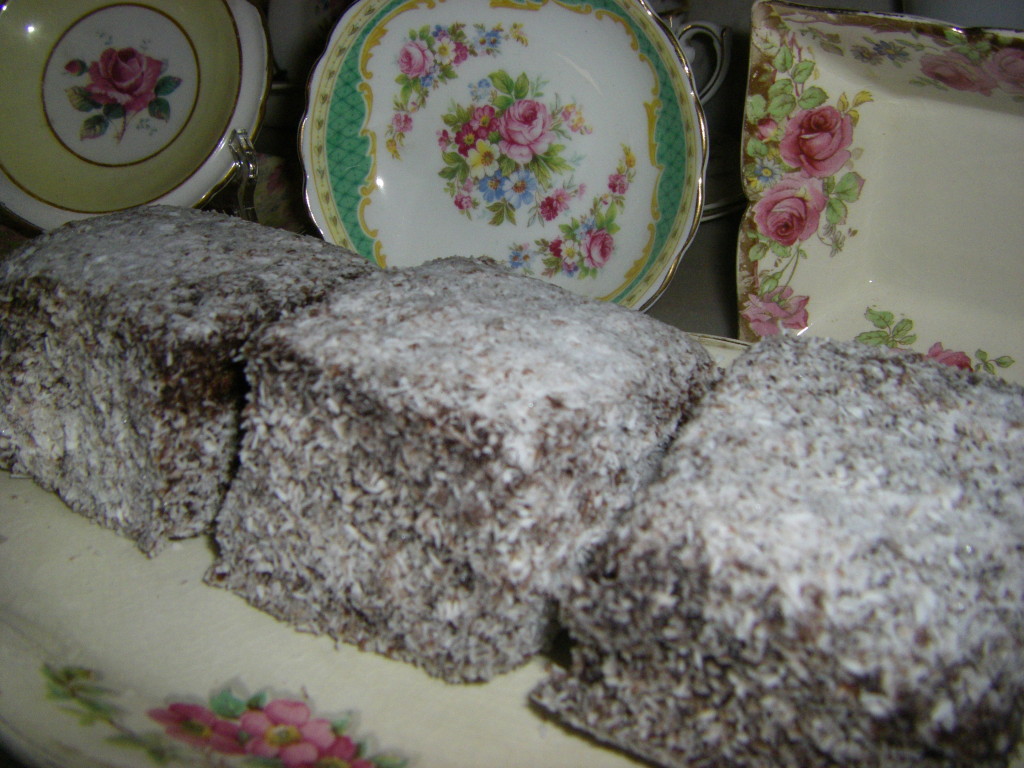 1 plain and unfilled sponge or vanilla cake cut into squares. Can be made from scratch, a packet mix or purchased.
Chocolate icing:
2 ½ cups icing sugar/mixture
¼ cup cocoa powder
2/3 cup warm water
Sift together dry ingredients, whisk in water until smooth.
Tip 2 cups desiccated coconut into a wide-mouthed bowl.
Roll chocolate-covered cake in coconut until evenly coated.
Lamingtons can also be sliced and filled with whipped cream or jam before being rolled in the chocolate icing and coconut.
Allow to set and then enjoy 🙂
 Peanut Butter and Chocolate Chip Cookies
1 cup of peanut butter (crunchy or smooth)
1 cup brown sugar
1 large egg
1 tsp bicarbonate of soda
1/2 cup chocolate chips
Mix first four ingredients. Drop small spoonfuls of mixture onto a lined biscuit tray, keeping in mind the cookies will spread. Press in the chocolate chips onto the cookie tops. Bake in a moderate oven until golden.
For the batch in the photo my kids substituted small chocolate m and m's instead of chocolate chips.
Deeeeelicious, Alissa! As one would expect from a country gal. And who can go past lamingtons? My other half turns into the Cookie Monster whenever he spies a plate. They are the perfect morning or afternoon tea treat.
Now, speaking of treats…
GIVEAWAY!
Alissa has very generously offered one lucky reader the chance to win a Kindle copy of her charming and heart-warming book What Love Sounds Like, featuring a an outback based
speech pathologist, a man who believes money is as important as breathing, and a little girl who will bring them together.
To be in the giveaway, simply reveal what sweet treat you enjoy from another country.
That's an easy one for me. Baklava! This Greek treat is such a favourite, with its sticky syrup, nutty layers and beautiful pastry. Gawd, I really want a piece now!
What about you? Maybe a traditional Devonshire tea is your go. Perhaps pecan pie from the US or an Italian canoli. There's a whole world of sweet treats out there. Share your favourite and you'll go into the draw.
Giveaway closes midnight Tuesday AEST, 6th May 2014. Open internationally. Rah!
If you'd like to learn more about Alissa and her books, please visit her website. You can also connect via Facebook.