Hello Feasters, and welcome to the devilish deliciousness that is Friday Feast! This week is pure gold, with a gold standard rural romance author, an 18 carat cover and a golden syrup based dessert to die for. So read on…
First, news from Us Heins Weren't Meant To Play Golf. On Monday I trekked up to Windsor to play in the final of the Women's Golf Nepean Silver Brooch thing that I somehow qualified for. The course was lovely, my playing companions too, and… wait for it… I didn't disgrace myself!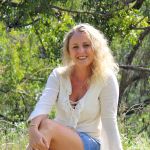 Actually, I played quite well. I know, amaaaaazing. Who'da thunk it? Not me, that's for sure. I was predicting duffed shots and a score that read like cricket a innings.
Speaking of amazing…
My Friday Feast guest today is Mandy Magro, a Queensland country gal who has quickly become one of Australia's favourite rural romance authors. Her books are lush with outback imagery, emotional and a bit sexy. This isn't a gal who keeps the bedroom door closed on her heroes and heroines!
Mandy's latest book is Country At Heart. Take a look.
A wounded soldier and a free spirit, both determined to follow their dreams – can their love survive?
The Army, protecting the country he loves, and his dearly beloved explosive detection dog Indy are Dean's life – he can't imagine doing anything else. But life has other plans for Dean when he and Indy are wounded in action in Afghanistan and sent home to his family's seaside horse property, Whispering Meadows, to heal.
Free-spirited Summer has agreed to spend one last holiday with her parents at their luxurious vacation home, despite her father's resistance to her plans for her career. But events take an unexpected turn when Summer and Dean meet and discover that love at first sight truly exists.
But can they overcome the very real challenges of coming from different sides of the tracks? And when Summer has to face the unpleasant truth about an old friend, as well as come to terms with the after-effects of a bewildering assault, she has to make a heartbreaking decision about their relationship. Can Dean's love ultimately sway her?
'A timeless tale of love and war brought to vivid life from war-torn Afghanistan to country Australia' –TONY PARK, bestselling author of The Delta and Ivory
Doesn't that sound a cracking read? You can have your hands on it in a jiffy with just a few clickety-clicks. For the paperback, visit Booktopia, Bookworld or Angus & Robertson. For the ebook, click on over to Amazon, Kobo, iBooks, Google Play, JB Hi-Fi or buy  direct from the publisher Harlequin.
All stocked up? Excellent. Now for more gold, thanks to Mandy!
The Sweet Side Of Life…
Thanks for inviting me back to your mouth-watering Friday Feast, Cathryn. I just adore anything to do with food – recipe books, growing it, shopping for it, cooking it and eating it! I will admit I do like to eat healthy – the majority of the time. But then there are the moments when I crave comfort food, the kind of stuff you eat with a stupid grin while fighting the urge to lick your bowl clean.
So, I'm very excited to share my favourite dessert with you, Steamed Golden Syrup Pudding. My mouth is watering just thinking about its delicious golden gooiness.
Steamed Golden Syrup Pudding
Ingredients
150g soft brown sugar
150g softened butter
1 lemon – zested
3 eggs, beaten
150g self raising flour, mixed with a pinch of salt
10 tablespoons golden syrup
Method
Butter a 2-pint (1.1 litre) pudding/steamer dish. Put the sugar and butter in a large bowl and beat with electric beaters until pale and fluffy. Beat in the lemon zest and eggs (add a couple of tablespoons of the flour to help), and then fold in the flour. Mix in 5 tablespoons of golden syrup – or a little more if you like. Put the other 5 tablespoons of syrup – or a little more if you like – in the bottom of the steamer dish. Spoon the pudding mixture on top.
Secure the lid on the steamer basin.
Place the steamer basin in a large pan on an upturned saucer (to stop it touching the base of the pan) with simmering water coming a third of the way up the sides of the dish. Steam for 2 hours, checking the water now and again and topping up if needed.
(This is where my inner-child comes out and I lick the bowl!)
Rest the pud for a couple of minutes before turning it out (you may need a palette knife to loosen)
Serve with lashings of cream, or ice-cream, or custard, or all three – why not live it up! 🙂
So there you have it, my wickedly full-fat over-indulgent syrup pudding. I promise every single mouthful will be worth the sin of it!
Happy cooking, and eating!
Mandy
Happiness indeed! Thanks, Mandy. What a beautiful recipe you've shared. Golden syrup is a bit like condensed milk I think. There is no bad recipe with it in!
I adore classic puds like this. They're tried and true, and so very comforting. They also look great and taste divine.
Okay, my darling Feasties, what is your favourite naughty pudding or dessert? One that is so, so bad it'd clog an elephant's arteries but you can never resist?
For me, it would have to be caramel tart because it reminds me so much of my childhood. And Mum opening the condensed milk tin too early and painting the ceiling in hot caramel. Funny to me, but not even remotely funny for her. Imagine trying to clean that off! I could also add the Chocolate, Walnut and Prune cake that I recently discovered in the November Gourmet Traveller to the list. That cake is AMAZING.
So what about you? What's your favourite naughty dessert? Curious minds want to know so we can go and try it too!
If you'd like to learn more about Mandy and her books, please visit her website. You can also connect via Facebook and Twitter using @mandymagro.