Hello, book and food lovers, and welcome to another mouth-watering edition of Friday Feast. This week, because my brand spanking new rural romance The Falls released on Wednesday and milestones like this need to be celebrated, you have the pleasure of my company. Which means much deliciousness!
But first, the emotional roller-coaster that is Us Heins Weren't Meant To Play Golf. In an astonishing turn-around, I actually played well and won a golf ball for my efforts. Ha! I bet you
didn't expect me to say that, did you? It wasn't perfect, by any means. There were some verra ugly shots made but overall a vast improvement on the horrors of previous weeks. I am praying for this to continue. All that bad play was costing a small fortune in drowned golf balls.
Wednesday was release day for The Falls, which is always a wonderful time. And this is a book that deserves a party. The Falls was huge fun to write, with a great line up of characters, both animal and human. Lucas, the hero, is a bit of a fantasy man (insert deep, longing sigh here) and it's nice to find out what happened to Teagan after Rocking Horse Hill. Then there's Teagan's glamorous, generous Aunt Vanessa and her menagerie of waifs and strays, and all the other colourful characters that inhabit Falls Farm and the local village. I hope you enjoy it as much as I did.
Take a look…
THE FALLS
Will losing the home she loves mean finding the place she belongs?
For as long as she can remember, Teagan Bliss has wanted to manage her family's property. She's invested everything in the farm, knowing that when her parents retire she'll be ready to
take the reins. But when a family betrayal leaves her reeling, Teagan is forced to rethink her Cover of The Falls by Cathryn Heinentire future.
Heartbroken, Teagan flees to her aunt's property in the idyllic Falls Valley. Vanessa is warm and welcoming and a favourite of the locals who drop in regularly for cocktail hour. Teagan soon catches the attention of sexy local farrier Lucas Knight, and with a new job, new friends and the prospect of a new relationship, she slowly begins to open up again.
But the village is a hotbed of gossip and division and when Teagan gets caught up in town politics, Lucas and Vanessa become concerned. As the tension in town escalates, Teagan must decide who to trust. But when she realises those close to her have been keeping secrets, the fallout may split Teagan apart forever.
You can join Lucas and Teagan on their journey to love with just a few clicks. Buy now from Booktopia, Bookworld, Angus & Robertson, Amazon.au, iBooks, Kobo, Google Play, JB Hi-Fi, QBD The Bookshop, Boomerang Books, Collins Bookstore, and Abbey's Bookshop. Or simply trot down to your local Dymocks, independent book store, or Big W and pick up a copy there.
Right. Food time!
Getting Dippy!
There's something really enjoyable about relaxing with nibbles, especially outside. Whether it's rowdy and laughter laden with friends and family, or quiet with just a book to keep you company. That lovely combination of simple, tasty things to munch on, where your hand keeps reaching for another morsel, is very pleasurable.
Teagan's Aunt Vanessa in The Falls is an expert at entertaining. She adores having friends over and holds a cocktail hour every evening on her verandah, with a different cocktail punctuating each day of the week. Teagan's first experience of this is margarita night, but there are days for negronis, kir royales, gin and tonics, sangria, martinis and Pimms cocktails.
Vanessa, being exceedingly generous, usually lays out platters of antipasti to go with her drinks. Simple dishes like homemade focaccia, marinated olives, tangy giardiniera, cheese, paté and shaved Parma ham. She also often includes simple dips like pesto and black olive tapenade, the latter of which you can find the recipe for on one of my earlier Friday Feasts.
But with dips you need something to attack them with. Vanessa mostly chooses bread – sliced baguette or, as mentioned, homemade focaccia (recipe here). But as she's a product of my imagination, I know for a fact that she would also occasionally include sticks of grissini.
If you're not familiar with grissini, they're basically slim bread sticks baked until dry and 'snappy' and they're great for poking into dips or wrapping prosciutto around. The best thing is that they're dead easy to make. Honest! And you can flavour them however you like, with herbs, spices, seasoned salts, whatever takes your fancy.
So next time you're having a barbie or hosting drinks where there'll be dippy dishes, why not have a go at your own grissini? They look attractive, plus you can puff out your chest and say you made them and everyone will think you're very clever, when reality is they took next to no effort.
Grissini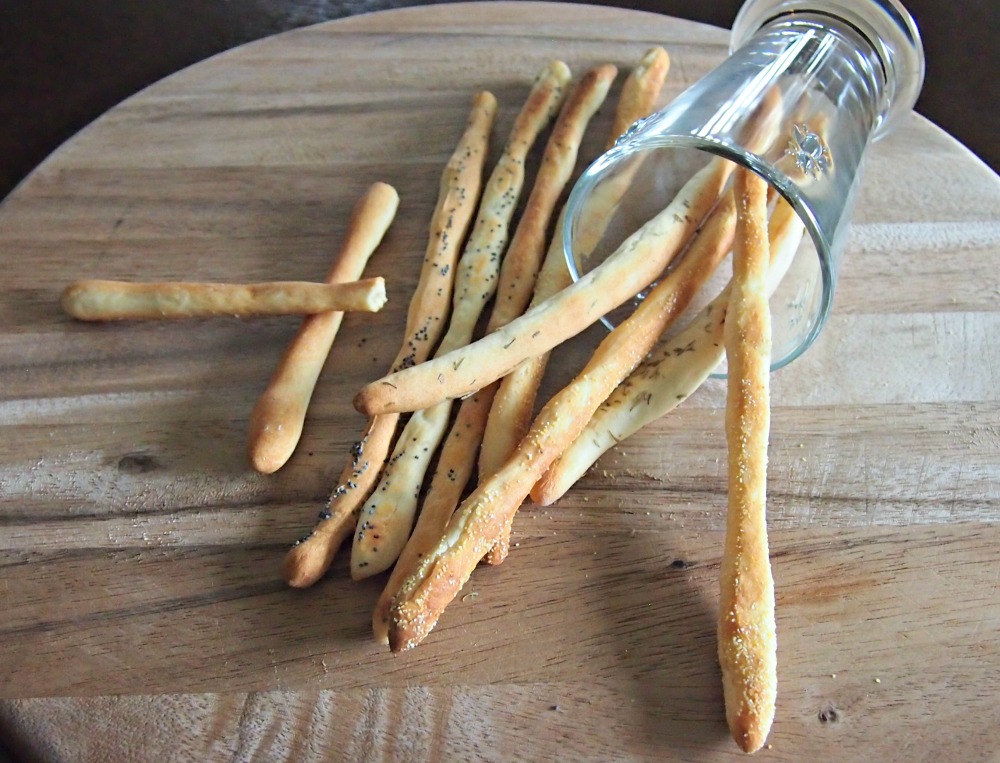 Makes approximately 25.
2 teaspoons dried yeast
200ml blood temperature water
300g bread flour
1½ teaspoons salt
Preheat oven to 200˚C.
Mix yeast with water and set aside for ten minutes while you measure out the other ingredients and sort your flavourings. If using a breadmaker (which takes out much of the grunt work), add all the ingredients to the pan in this order: water, salt, flour, yeast. Then use the dough setting to mix and prove.
If doing by hand, simply mix the yeast liquid into the stirred together flour and salt and when combined, tip the dough out onto a lightly floured surface and knead until smooth and elastic. If that sounds too much like hard work and you have a mixmaster with dough hooks, use those. Place the dough in a clean bowl, cover with plastic wrap and leave in a draught-free place for an hour to rise.
Slice off small pieces of dough, about the size of your thumb, and using the palms of your hands, roll each piece into a long, straight stick. It should be quite thin, around the size of a pencil. If they're too thick they won't dry out properly and give you that satisfying snap, nor will they keep very well.
When you have the right size, roll in whatever flavours you've chosen. The ones in the photo were rolled in poppy seeds, thyme and plain polenta. Don't worry if they look a bit uneven, they're meant to be rustic!
Lay out on a baking paper covered baking tray and bake for 20 minutes or until lightly golden and dried. Cool on a wire rack. Properly made, they'll store in an air-tight container for a week.
I hope you enjoyed this easy recipe and are planning to laze about scoffing dips and grissini with your nose in a copy of The Falls. Sounds lovely, yes?
So here's a question, what's your favourite indulgent nibble? Can't say no to a big bowl of salt and vinegar chips? Or perhaps duck liver pate is your weakness. Maybe you love a bit of retro cheese and kabana on a toothpick.
Please share. We'd all love to hear! And you could inspire someone's next party.
If you'd like to learn more about The Falls or any of my previous releases, check out my books page on this site. And don't forget to connect with me on Facebook, Twitter, Google+, Goodreads, and now on Pinterest! Plus sign up to my newsletter to be the first to hear all the news, receive exclusive content, enter special giveaways and more.