There's something horribly invasive about going through another person's belongings. Even when that person has passed away or been placed, like my mum, into full time residential care, sorting through their things feels a terrible breach of trust and privacy.
The task is heart-breaking, insightful, uncomfortable, sometimes very funny and occasionally truly astonishing. It's an eye-opener into another person's life, what they treasured, what they thought mattered, and a task I strongly believe would be incredibly sad to be left in the hands of a stranger.
How would a stranger recognise the meaningful things? How would they recognise that the simple white-gold ring shoved into a box alongside a dozen worthless pieces was actually my mother's original wedding band? How would they know that old, creased black and white print was a rare photo of my mother with her adored father, or that cloth badge, scrappily cut from a blazer, was her school badge from Saint Josephs College in Penola where she was inordinately proud to be a student? Without knowledge of the life through which they were sorting, how would someone distant from a person's life recognise any of those stories? They wouldn't, and so much would be lost because of it.
It was a privilege to go through my Mum's things. It was also acutely frustrating. I always knew she was a bit of a hoarder, but until we began unearthing box after box of everything from greeting cards to strange little inscribed books, immunisation charts, to forests worth of papers on family history and cut-outs for scrapbooking, I had no real concept  of how bad her hoarding was. Hoarding that had deepened as her Alzheimer's worsened.
The exercise was akin to an archaeological dig. Her office took me and Dad four full days to excavate, her bedroom and the spare room two days each. Soon, the hallway was piled with boxes of papers for recycling. Great plastic blocks of scrapbooking gear, which must have been worth many hundreds of dollars, if not more, were stacked along the dining room wall for dispersal. The dining table was strewn with stationery, miscellaneous photos and things we couldn't quite figure what to do with. Mum's scrapbooks of the Queen's coronation sat on the table in limbo for days before I decided that I couldn't throw them out. I filled large tubs for myself and my brother, jumbles of items meaningful only to us and our parents and, we hope, future generations. We filled the household wheelie bin cleaning out her ensuite the second day. From then on we switched to sturdy garden sized rubbish bags which grew rapidly to form a glossy black mountain in the garage.
It was, to put it bluntly, a slog.
But, oh, there were some treasures, and mysteries too. Also incredible joys and funny-sad things. And many, many memories.
In this series of two blog posts, covering treasures and mysteries, and memories and oddities, I'm going to show off a few of the curious items we found, and reveal a little about their history and importance to Mum or us as a family.
TREASURES
While there were some pretty astonishing finds, a few stood out. Items I never knew existed that, when uncovered, caused us to blink and  shake our heads in amazement.
Like Mum's adorable baby booties. In one box, buried at the bottom, we discovered a photograph. Not knowing who it was of, I consulted Dad. Much to my amusement and some muttering from Dad, it was of a fellow who'd courted Mum nearly 60 years ago. Why the photo ended up with the booties is anyone's guess.
Speaking of courting, Mum kept all Dad's letters from the 50s when he'd skipped off via ocean liner on a great adventure to Canada, the USA and Mexico. They made for incredible reading, although Dad didn't quite agree. I think he was a tad embarrassed by his romantic younger self. But more on these another day. They're too juicy and fun to let slide with just a photo. I'm going to write about them – with Dad's approval, of course.
Still on the subject of Dad, here's him on November 3rd, 1973, walking (on the left of the photograph) with the Duke of Edinburgh when the Duke came to visit Mount Gambier and took a tour of the Valley Lake. Dad was Chairman of the Lions Youth Affairs Committee, which at the time organised the Duke of Edinburgh Awards Scheme. This was a seriously big deal in Mount Gambier – the Duke's visit, not my dad being committee chairman, although I am proud of him for that!  – and Mum kept all The Border Watch clippings from the event. One article breathily reported that Equerry to the Duke (Major B. Herman) sampled a biscuit from Elizabeth's Varcoe's cookery display and that 100 people turned out at the aerodrome to greet the Royal aircraft. What fun!
This is one of my maternal grandfather's certificates from his days in the Royal Antediluvian Order of Buffaloes, aka the lodge, dated May 1954. Isn't it amazing? And he was a knight, too! While there appear to be still Buffaloes lodges operating, it looks like all the south east SA ones have folded.
We're not a religious family and yet Mum seemed to have a lot of bibles, including this one with newspaper clippings of significant family events pasted in. For me, this was a fantastic treasure. I learned things!
As was Mum's and Dad's wedding album a treasure. The photos were wonderful, especially those of my grandparents who have all now passed away. Don't they look great? Check out the size of that cake! We found Mum's wedding dress in the top of her cupboard.
I'm not sure where this Kigu compact came from but I do have a strong memory from when I was a child of Mum showing it off to friends to much oohing and ahhing. I suspect it was either my grandmother's or great-grandmother's but I honestly don't know. What I do know is that it's beautiful. I can understand why people collect these.
MYSTERIES
I have yet to solve this one, and it's driving me a little mad. Tucked away in Mum's office was a small leather bound book of poetry by William Gay, inscribed inside from someone who was appreciative of the "bonza day" they'd spent with Jessie in 1919. Who the recipient and the giver are, and how it came into Mum's possession I have no idea and neither does anyone else. And Mum, who would know, can't tell us. It's very frustrating!
I also found a strange gold pin, the design of which seemed to represent something. Initials? An association? I posted a picture on Facebook and the mystery was soon solved. It was Weight Watchers badge, and likely my grandmother's as Mum never did Weight Watchers that I was aware of.
Mum was never a reader either, and yet there were books. A 1940s copy of Black Beauty, another of Treasure Island. But this one had me flummoxed. It's a 1957 Thriller Picture Library edition of Rob Roy "told in pictures" and cost 1/3, or 1 shilling and threepence. The comics were were published in the UK twice a month or so, and featured classic tales such as The Three Musketeers, Robin Hood, Ali Baba and the Forty Thieves, Gulliver's Travels and many more. Why Mum thought this particular edition was important is a mystery. The cover is missing (she has sticky-taped a printed-off one to the book as replacement) and it's not in great condition, so it's not exactly valuable as a collectible. It's still kind of cool though!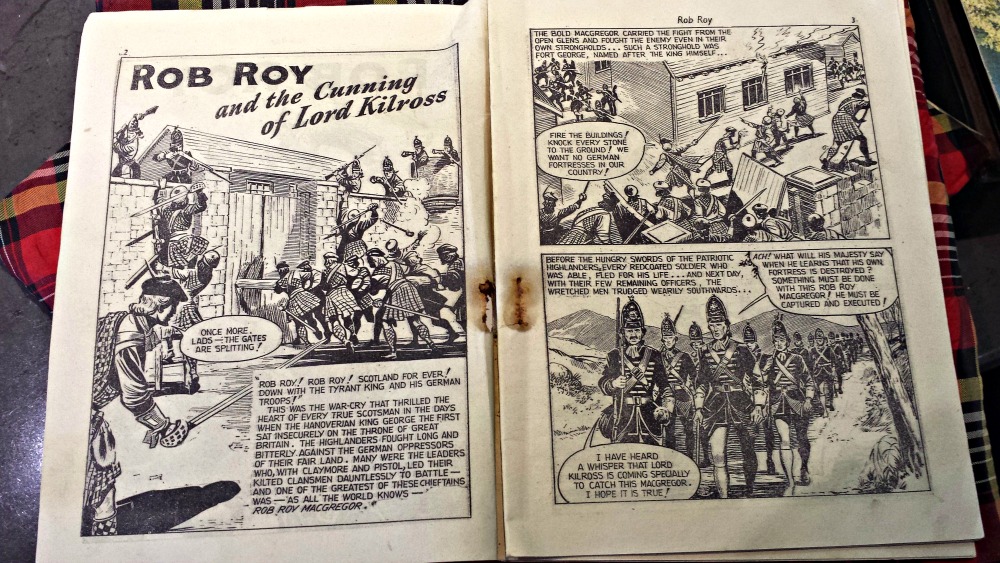 This box of slides and film definitely won't be staying a mystery. We're all hanging out to find out what's on the film. None of us have any idea. We didn't even know it existed!
These are just a very small sample of some of the things we discovered sorting through Mum's belongings. I hope you'll join me for part two where I'll post photos of some of the items that rekindled forgotten memories, as well as a few of the more quirky items we found.
If any of you have been through a similar experience, I'd love to hear about it. Did you find it heart-breaking or heart-warming, or was it a combination of emotions, as it was for us? I think one of the hardest parts is knowing what to keep and what to toss or give away. I still wonder if we made the right choice with some items.
For more information about Alzheimer's Disease and to help fund research into this awful affliction that steals so much from us, please visit the Alzheimer's Australia website.