Welcome to another mouth-watering edition of Friday Feast! This week, we'll be exploring the delights of Belgium with a hugely talented historical author, salivating over a fruit dessert and offering you the chance to win a swag of Waterloo memorabilia!
First, news from Us Heins Weren't Meant To Play Golf. So the new golf bag didn't work either. I'm still playing like poo and my handicap is going out with every round. The glory days of the start of the year, where a single figure handicap seemed within reach, are now mere wispy memories. I have, it has to be said, descended back into the quagmire of hackerdom and become bogged.
But maybe this is only a winter anomaly? Maybe, come spring, things will change? Surely, if I've reached those heights before I can manage it again? There must be hope!
Time to move on to the real reason you're here, because I'm certain it's not the embarrassment that is my golf game.
Today's guest is award-winning, cross-genre historical author Alison Stuart. If you haven't read her novel Gather the Bones, then you're missing out on a terrific read. I adored that book as did many others, which is why it was a finalist in numerous awards. Reflecting her background in the military and fire service, Alison has a predisposition to men in uniform (don't we all!) and her latest follows that path.
Take a look at Lord Somerton's Heir…
LORD SOMERTON'S HEIR
Can the love of an honourable man save her from  the memory of a desolate marriage?
From the battlefield of Waterloo to the drawing rooms of Brantstone Hall, Sebastian Alder's elevation from penniless army captain to Viscount Somerton is the stuff of dreams. But the cold reality of an inherited estate in wretched condition, and the suspicious circumstances surrounding his cousin's death, provide Sebastian with no time for dreams — only a mystery to solve and a murderer to bring to justice.
Isabel, widow of the late Lord Somerton, is desperate to bury the memory of her unhappy marriage by founding the charity school she has always dreamed of. Except, her dreams are soon shattered from beyond the grave when she is not only left penniless, but once more bound to the whims of a Somerton.
But this Somerton is unlike any man she has met. Can the love of an honourable man heal her broken heart or will suspicion tear them apart?
Ah, now doesn't that sounds romantic? It can be yours with just a few clicks. Try Amazon, Kobo, iBooks, Google Play, Nook, JB Hi-Fi or your favourite ebook retailer.
All set? That's the way! Here's Alison.
It's Tuesday – It Must Be Belgium
Ah, the culinary delights of travel!
My husband and I have just returned from 6 weeks in the UK and Europe and one of our favourite aspects of travel is food… and beer… and wine. We make a point of eating local food and drinking local brews, wherever possible (a visit to the Champagne region of France was particularly tough!). There were two destinations on our journey when this policy failed us – Copenhagen and Berlin where it seemed that the only eateries around where we were staying were provenders of every world cuisine – except the local. We ate noodles and Thai.
Inevitably our journeying footsteps take us through Brussels. Why? You may well ask. We have rather a soft spot for this quaint little town. My husband had several business trips to Brussels before I made it there so by that time he was well acquainted with the local cuisine and the best places to find it. Of course it helps that the local cuisine is beer and chocolate. We have only just finished the 1kg box of our favourite Corne Port Royale chocolates that we lovingly hauled back with us. When every second shop sells chocolate it pays to know the good ones and you know you've been to a city too often when you get annoyed that your favourite shop has moved!
Which brings me to beer. We have two favourite haunts… A La Mort Subite, a beer hall just off the Grande Place with wonderful arched mirrors, murals and brasswork. It opened in 1928 and nothing much has changed since, including the paintwork. In my book GATHER THE BONES, the characters have a brief interlude in Brussels, although, given the circumstances it is doubtful they visited beer halls, but I am sure Paul and Tony would have enjoyed a beer at La Mort Subite and not felt out of place or time. The speciality of LMS is the Lambic White Beer… and it HAS to be eaten with a plate of cheese, salami, gerkins and pickled onions – sprinkled with celery salt and eaten with mustard.
On to La Becasse, another beer hall, discreetly tucked away and quite hard to find if you don't know where to look. Here the decor is wooden panelling and brasswork – just wonderful on a cold night. In fact it was rather odd being in Brussels in warm weather… as all my previous trips had been in the cold. It is one place I distinctly prefer a little cold.
A popular haunt of students La Becasse was oddly deserted on our recent trip (exam season  apparently). We spent a pleasant evening working our way through the beer menu. Particular favourites are the Lambic Beer, the fruit beers (particularly the Kriek or cherry beer) and the wheat beers all served in fabulous blue earthenware jugs and accompanied by another plate of cheese, salami and little pickled onions. Who needs dinner?
But if you are on the hunt for real food, the Belgians are best known for their Moules Marinieres (not to be eaten in a month with no 'R'), their Frites (potato chips) and Goffres (waffles) all served from 'holes in the wall' or street carts tucked into corners. Nothing like a warm goffre dripping chocolate on a chilly night while you admire the Mannekin Pis, which has to be world's most underwhelming statue.
We only had one full day and we occupied that fully in a day trip to visit Waterloo, on a stuffy local bus. We missed the bicentennial of the battle by a week. I won't bore you with that here – you can read about it on my own blog, but in recognition of this important battle, my 'Waterloo Story', LORD SOMERTON'S HEIR is on sale on Amazon and iBooks for this week at only .99c and I am also running a contest to win some Waterloo memorabilia. You can enter via Rafflecopter through this link… Click HERE to enter.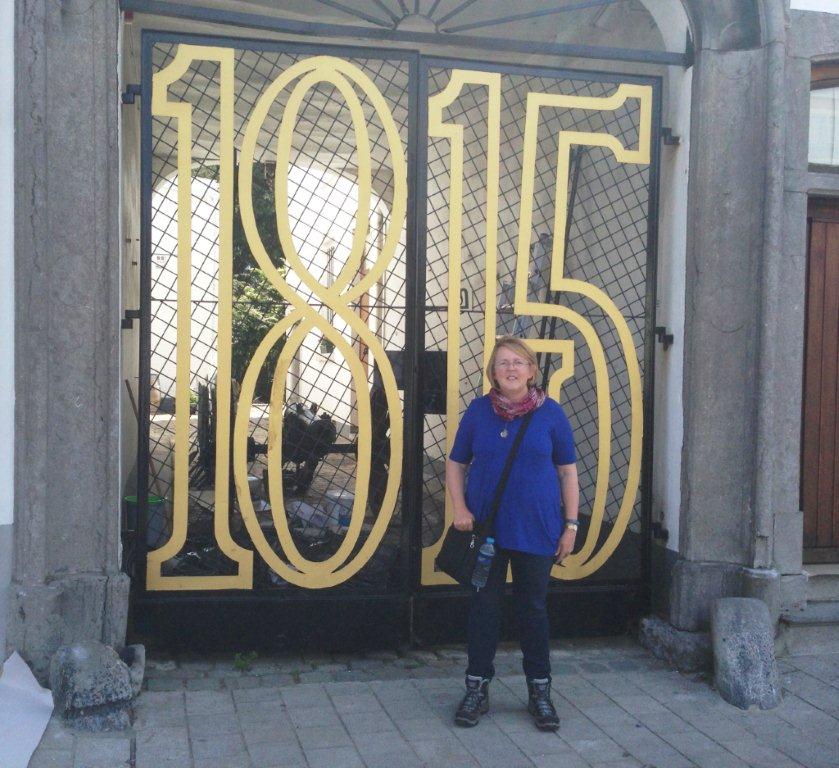 And now to my recipe… which is not, as far as I know, Belgian, but is a family favourite passed on to me by a dear friend when I got married (origin unknown).
NECTARINE NUT KUCHEN
(serves 8)
PASTRY
I cup (125g) plain flour
2 TBLSP castor sugar
30g finely ground almonds
60g butter
1 large egg
Grated rind 1 lemon
1/2 tsp vanilla essence
Place flour and castor sugar with the almonds into a bowl. Add butter cut into small pieces and either process for a moment until crumbly or mix, using your fingertips.
Add the egg lemon rind and vanilla essence and mix until it binds together.
Remove and wrap well then chill for 30 minutes. Roll pastry out between some waxed paper or on a lightly floured board. Press into a tin (with removable base) or a form tin or a quiche tin, approx 20". Butter the tin lightly on the base and sides. Having pressed the pastry into the tin, chill while preparing the fruit and topping.
FILLING
500g firm ripe nectarines or plums
1tblsp lemon juice
2 tbsp sugar
1/2 tsp cinnamon
Cut the fruit into segments, removing the stone from each one. Place in a bowl. Add the lemon juice, sugar and cinnamon and stir gently until the fruit is coated.
Place into the crust, pressing down lightly with a spoon to slightly flatten the top without crushing the fruit.
TOPPING
45g ground almonds
2 tblsp sugar
1 tblsp brown sugar
30g unsalted butter
Mix the almonds with both sugars. Add the melted butter and stir with a fork. The topping should be quite moist. Scatter this evenly over the top of the fruit.
Place in a moderate oven and cook for about 35-40 mins until pastry is golden and fruit is tender. Remove from oven, stand for 5 mins then cut into wedges and serve warm with cream.
*
That sounds absolutely delicious, Alison! Anything with fruit in it is a house favourite and I adore being able to take advantage of a season's abundance. Thanks so much for sharing this with us.
Did you read, Feasties? Alison is running a…
GIVEAWAY!
And it's a really super-simple one too. No commenting – although we would love if you did – just a quick click then choose how many times you want to enter!
Visit Alison's Rafflecopter giveaway today. Go on! You could win a swag of Waterloo memorabilia, including a reproduction of The Times with Wellington's Waterloo despatch, a Wellington keyring, a Napoleon bookmark and other goodies.
If you'd like to learn more about Alison and her books, please visit her website. You can also connect via Facebook, Twitter using @AlisonStuart14 and her blog.