If you love romance, writing, or both, the Romance Writers of Australia annual conference is the
place for you. Every year I come away with my head spinning from all I've learned, my heart warm from all the darling friends I've caught up with and the new ones I've made, and my body buzzing at all the exciting ways in which we can give our readers the best reading experience possible.
The 2015 conference, held recently at the glorious Park Hyatt in Melbourne, was no exception.
On a professional front, the highlights for me were Angela Ackerman's Friday workshops Larger than Life Characters and Show Don't Tell, CS Pacat's How To Plot A Page Turner, Sarah Mayberry's and Sara Hood's Marketing Masterclass, and the 'If I Knew Then What I Know Now' published author panel. Social highlights? Well, let's just say every day was a social highlight!
Here are a few happy snaps from the weekend. As you can see, there was plenty of laughter, great information, and even a few dress-ups.
COCKTAIL PARTY
A happy crowd. You would not believe how loud it was.
Christina Brooke, Denise Rossetti and Annie West.
Harlequin Australia ladies Lilia Kanna and Michelle Lee looking gorgeous.
Trish Morey and Marion Lennox.
Keri Arthur and Anne Gracie.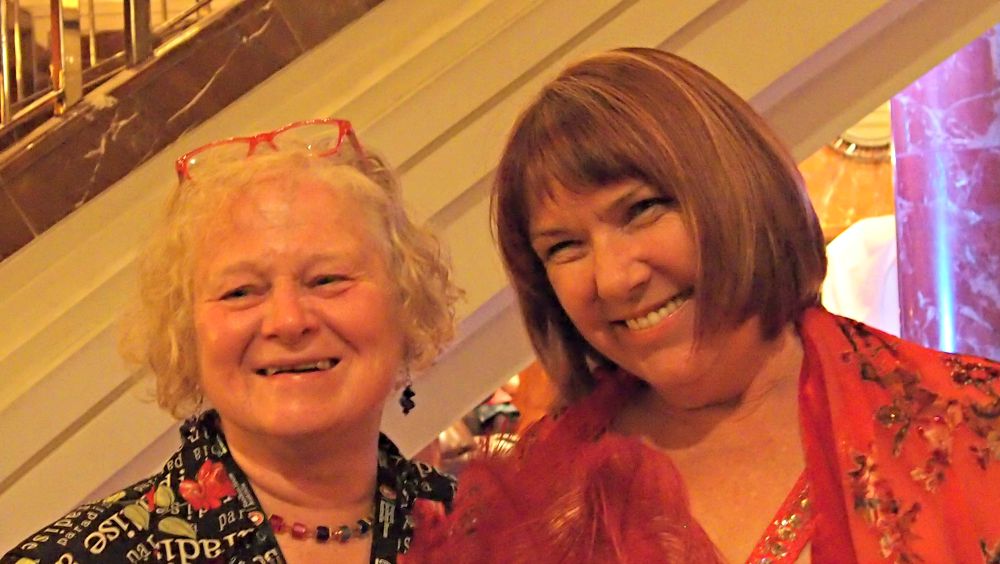 Robin Aldridge and Fiona McArthur, both attending their TWENTY-FOURTH conference in a row. How cool is that!
Michelle Conder, Annie West and me.
CONFERENCE
Some of the slides from Angela Ackerman's brilliant Friday workshops.
Michelle Douglas and Denise Rossetti.
Tricia Stringer and me.
C.S Pacat's session on How To Plot a Page Turner was soooo good. Fantastic information.
New Zealand author Maggie Le Page, who won the guess the number of jelly beans competition, lucky thing.
Some of the great slides from Sara Hood's and Sarah Mayberry's Marketing Masterclass session. The full set of slides from the presentation can be found on Sara's Marketing4Writers website.
My raffle prize: martini glasses and two Sandy Curtis romantic suspense novels. Rah!
Morning tea. More loudness, but with cake.
ARRA BOOKSIGNING
Me and Hot Chocolate the Blow Up Wonder Horse.
Meredith Appleyard.
Me and Helene Young.
Fiona Palmer takes her books very seriously.
Anita Heiss, who I had the great pleasure of sitting next to.
Maggie Mundy and Trish Morey.
Eager fans!
RWA GALA AWARDS DINNER
Pre-dinner drinkies.
Celebrating all our achievements thanks to Anne Gracie's stand-ups.
Ruby winner Amy Andrews received many lipsticky congratulations on her win.
Dance lessons thanks to the Escape After Party.
Rachel Bailey and Ruby Award winner Annie West in the cocktail bar.
OTHER STUFF
My book haul! Although I may have read that bottom one a few times.
Entertainment in the Hyatt's cafe. Very civilised.
Melbourne looking pretty at night.
My huge thanks to Kate Ledsen, Kate Belle and their team, along with the RWA committee and all the volunteers for putting on such a wonderful conference. Very fresh indeed!
As you can see from the above, romance authors are super-savvy about their business and craft, generous with their time and expertise, and know how to have a good time. If you're searching for your writing tribe, perhaps the RWA is the place for you. It certainly is for me.