There's nothing like a mammoth road trip to wear you out, and we did a beauty over the Christmas-New Year break. Well over 4,000 kilometres (2485+ miles) in total by the time we made it back home.
Not that this is unusual for us. With my family in south-east South Australia and Jim's in north Queensland, long journeys are unavoidable. Anyway, it's fun to cruise this vast country of ours. There's always something wonderful to see or experience, from our natural beauty and fascinating history to our famously dangerous wildlife, and much more in between.
And when you spend so much time in front of a computer like me, sometimes it's just a blast to tool around in the Aussie outdoors.
Here's a selection of photos from our time away. Enjoy!
We called in to Moree on the trip up and had a lovely dinner with author Nicole Alexander. Unfortunately, neither of us thought to take a pic for you. We were too busy talking!
From Moree it was a cruisy drive to Rockhampton, a place I've had a soft spot for from first visit. And here's a useless fact for you: Central Queensland University, which has its main campus here, is where I gained my post-graduate in business management.
As always, when in Rocky, we wandered down to the Criterion Hotel's Bush Inn steakhouse for a big meaty feed. Isn't the hotel beautiful? It was built in 1889 and is 'cousin' to Brisbane's famous Breakfast Creek Hotel, although the Criterion has an extra floor. It also has a ghost, believed to be a chambermaid who died in the late 1800s, although no one seems to be sure.
Read more about the history of the hotel on its website.
Ah, I do so love a good equestrian statue! This – so the plaque informed me – is of Charles Archer and his horse Sleipner, who, on 1st September 1855, made rendezvous with his brother Colin Archer in the ketch Elida on the banks of the Fitzroy River, and thus the site of Rockhampton was determined.
Christmas was spent in Collinsville, which now advertises itself as the Pit Pony Capital of Australia, thanks to the historic use of ponies in the coal mine. Although they weren't ponies, they were Clydesdales. Collinsville was the last mine in Australia to use pit ponies, with Wharrier and Mr Ed only being retired in 1990, which is kind of gobsmacking.
Timing meant I didn't get to visit The Pit Pony Experience this trip but I will next time I'm up so I can learn more about the ponies and community.
A handsome statue has been installed in town to honour the lives of these animals. Naturally, being a horsey sculpture, I took lots of snaps. He was decorated for Christmas and looking very jaunty.
My father-in-law has the best big boy's toys. This is just a small example. Next trip I'm going to have a go at the loader myself. And the digger. Wouldn't mind a play with a big truck either but knowing me I'd probably break it. After all, I managed to mangle a header at agricultural college during harvest which did NOT go down well. Oops.
The barbeque had a hanger on. These hornet nests are quite extraordinary, heavy and densely structured, but look how delicate the entrance funnel is. It's almost a work of art in itself.
We snuck into Bowen on Christmas Eve to raid the fish co-op and enjoy a tasty lunch at the yacht club. Did you know Bowen was where they filmed the Darwin scenes for the movie Australia, starring Nicole Kidman and Hugh Jackman? The town is very proud of the fact and even has BOWENWOOD painted in big letters on the water tower. Such an Australian thing to do. I really wanted to get a snap of that but the best vantage point was the highway and I didn't think getting skittled on Christmas Eve was a good idea.
The original big mango (which once made headlines for being "kidnapped" overnight) is on the Bruce Highway but there's a smaller one, known as mini-mango, in town. I thought I'd show it Wayward Heart. Perfectly normal thing to do.
Post-Christmas we headed north to Townsville. The Strand was looking gorgeous, with plenty of people making use of the water park and patrolled beaches. I adore the fig trees; some of them are fantastical in shape and look more suited to a Lord of the Rings type movie set than a tropical promenade.
Townsville has some wonderful architecture, including the former Queens Hotel and Customs House.
The Strand is also home to several sculptures. This one is new since our last visit. It's called Bazza and Shazza and was created by James Cook University alumni Jan Hynes. Isn't it cool?
At the top end of The Strand lies Jezzine Barracks. This redeveloped 15-hectare site celebrates the aboriginal and military history of the Kissing Point headland. The original fort was established in 1870, and the site was in continuous military use from 1885 until 2006. The views over the rockpool and bay are lovely and worth the climb, even in the heat.
This might be hard to read but this is a section of plaque in one of the barracks' memorials that tells of the bravery of Private Jim Gordon VC. He was awarded the Victoria Cross for conspicuous gallantry while saving his unit by capturing a pill box near Jezzine, northern Syria. As if that wasn't enough, he was offered a SECOND Victoria Cross for his actions on the Kokoda Track, but turned it down unless the rest of his section were also similarly recognised. What an incredible man.
Here are some of the other memorials in the barracks.
Naturally, we played golf. Usually we'd play all three local courses but a 3.5 metre saltwater crocodile had moved into The Willows and I was buggered if I was going to play there. With everything else biting me I was bound to be snapped at.
Apparently they've since managed to capture one croc but it was only 2.3 metres long which means the 3.5 metre could be still out there… waiting.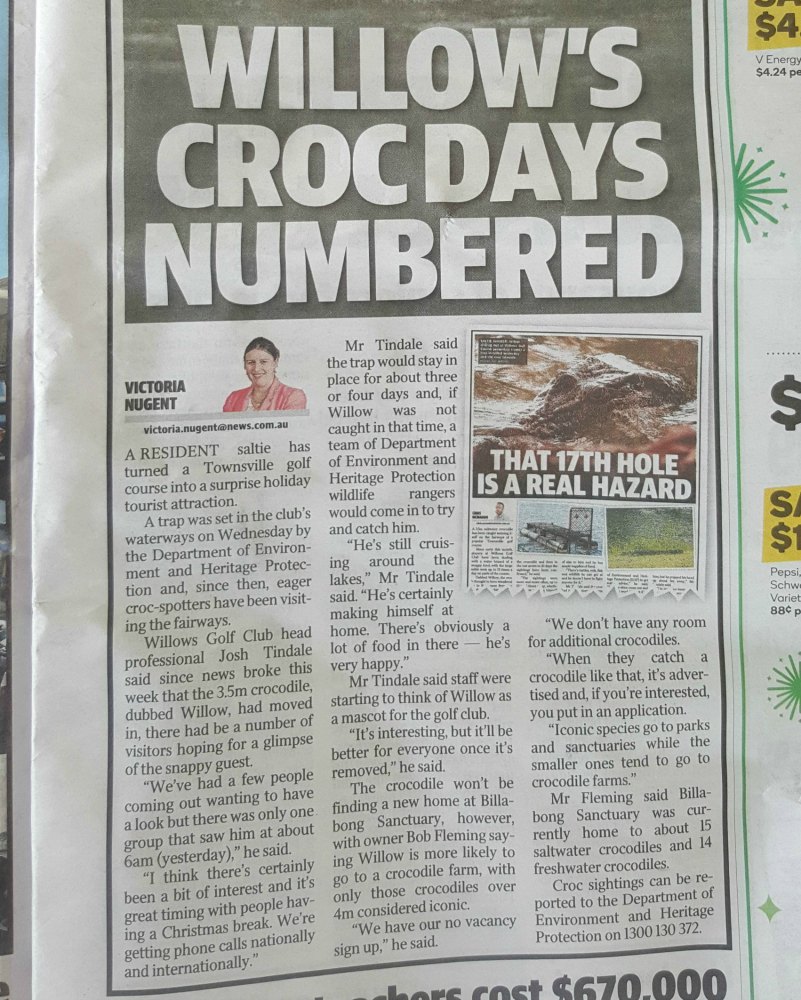 Speaking of bities, here's a green ant nest I spotted at Rowes Bay Golf Club.
And another bitey, although in this case it's a fake one draping the street in front of the Museum of Tropical Queensland. I bet that's given more than a few intoxicated revellers leaving the Flinders Street nightclub strip a fright or ten.
We called back into Collinsville on the way back because the local cattle needed to be shown Wayward Heart too. And don't they look fascinated.
Which reminds me, we struck a nasty storm near Guthalungra. Horrible to drive through but dramatic to look at.
It can be ridiculously expensive to buy healthy food when you're travelling so we pack picnics and make use of roadside stops. It's great. Mostly. At one stop on the upward journey we set up at a table only to discover halfway through eating our sandwiches that there was a paper wasp nest beneath. Poor Jim copped a few stings, which made for a deal of unhappiness.
Ever wondered why Banana in central Queensland (and not a banana tree in sight) was called Banana? I have, plenty of times, and now, thanks to this sign, I know the answer and so do you.
In case you can't read it, the piece about Banana on the sign's left reads:
In bygone days of bullock drays Banana led the team, an enormous yellow bullock who died beside a stream. The years have passed "Banana's creek" tells of the bullock's fame, for a town grew up beside it and BANANA is its name.
There's even a statue and memorial to good ol' Banana. What fun!
I've forgotten how many times we've passed through Condamine, on the western Darling Downs, over the years and wished we could stop at its wonderful old pub, but we could never seem to fit it in our schedule. This trip we did, and so, after a long day on our bums, we enjoyed a refreshing leg-stretching walk around town followed by a cold beer and great counter meal. Bewdiful.
Condamine is tiny, with a population of 400 or so. What it's most famous for is the Condamine Bell, invented by blacksmith Samuel Williams Jones. He was the first to manufacture stock bells out of sheet metal from crosscut saws.
I remember memorising a wonderfully romantic-sounding poem about this in year 10 in school, which I then had to recite to the class. It was called Condamine Bells by Jack Sorensen and I'm still able to recite lines by heart. You can read the poem in full here. As you can imagine, I was rather chuffed to visit the memorial bell.
A few days after returning home we zoomed off to Canberra to visit the excellent A History of the World in 100 Objects exhibition at the National Museum and take a bazillion more photos. I'd include those but I think this post is long enough as it is. If you're interested, highlights can be found on my Instagram and Facebook pages.
I hope you had fun with this peek at our latest Australian adventures. We certainly had fun living it!
Did you have any adventures over the break?