Welcome to Teaser Tuesday, the series where I share snippets from new and past releases, and works-in-progress, and occasionally con author buddies into doing the same.
I'm off to Narrandera this weekend for the NSW Rural Women's Gathering, where I'll be running a writing workshop with fellow rural romance author Jane Carter (whose new book Prodigal Daughter is out now) and having a wonderful time. I'm so thrilled to be attending this event. It's going to be brilliant. If I get the chance on my return, I'll share lots of piccies in a This Writing Life post.
Another thing I'm thrilled about is hosting good buddy Rachael Johns on the blog today. Rah! Rach has a stunning new novel out that you are going to love. The Greatest Gift will tug at your heartstrings and leave you thinking long after you've finished the last page.
But enough from me. Here's Rach to tell you more about The Greatest Gift.
The Greatest Gift is not only the title of my latest release, but this book was also a GIFT to me. Last year, I was contemplating having a little break from writing, I was feeling creatively fatigued, life was crazy-hectic with other things and I didn't have a solid idea I wanted to write about. I gave myself permission to take six months off and focus on house renovations and refilling the well, but my muse had other ideas.
When I was worrying that I'd never get another idea, suddenly I got a message from a woman on Facebook wanting writing advice. I helped her as much as I could and she told me she was an egg donor. What? I'd never met anyone who'd done anything like this before and I wanted to know everything about it. In only a few messages a character appeared in my head – a career woman who didn't want children so decided to donate her eggs to a woman who does. And the idea took off from there – within a few hours, I had a whole plot in my head and trust me, this almost NEVER happens for me. So this book was a GIFT to me – it helped me find my love and passion for writing again – and I also hope it is a GIFT to those who read it.
The scene below is at Harper's husband's Christmas party and shows some of the reactions Harper gets when people discover she is donating her eggs.
'Can we get you a drink, Harper?' asked Elizabeth Carter, one of the partners' wives as she looked around for a waitperson.
Within seconds a boy who looked barely legal appeared wearing the standard black and white uniform of restaurant wait staff.
'I'll have a soda water, thanks,' Harper said.
'Can I grab another soda and lime?' Annika lifted her empty glass, confirming Harper's CrossFit suspicion. You didn't get a body like that without treating it like a temple.
'Don't tell me you've joined this ridiculous cult as well.' Tracey Slater, the other partner's wife, tutted. She took a large gulp of her red wine.
Harper opened her mouth to say 'yes' as that would be the easiest explanation, but Elizabeth got in first.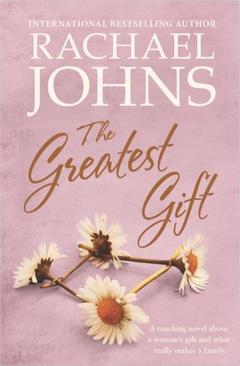 'Oh my goodness! Are you pregnant?'
The chatter in the room died instantly as all eyes snapped to her and Samuel. Her stomach tightened.
Samuel snorted loudly. 'You know our stance on babies.'
Harper cringed. Of course they did. Everyone who knew them knew 'their' stance on babies—how due to climate change, world poverty, war, famine, blah, blah, blah, it wasn't smart to bring more babies into the world—but it embarrassed her when he went on about it in front of people who already had children, like many of the people at this party. She'd called him out on this once and he'd retorted with, 'Well, why shouldn't we make them question their decision? They sure as hell try to make us question ours.'
And although he might have a point, it still made for awkward social situations, but tonight he surprised her.
'Harper's abstaining from alcohol because she's in the process of donating her eggs to a childless couple. You should see how brave she is, injecting herself every morning.'
The pride that shone from his voice was new—so far he'd given no indication that he admired her for what she was doing. Aside from a few condescending remarks, he'd shown so little interest that she'd hardly told him anything about Jasper and Claire.
Was he simply using her situation to make himself look good in front of the partners?
Whatever Samuel's reason, she couldn't help feeling a little pissed off that he'd made this public announcement. She hadn't wanted anyone except her close friends knowing. Although she wasn't exactly Kardashian famous, as a public figure she preferred to keep her private life just that. And there was also Claire and Jasper's privacy to consider.
'Wow, Harper, do you know the couple you're doing this for?' asked one of the paralegals.
'Um … no.' She bit down on her annoyance. 'Well, I didn't when I first set out but we've kind of become friends now.'
Everyone had something to say about this. The overall consensus was that donating her eggs made her some kind of angel and although this sentiment made Harper uncomfortable, it was preferable to the alternative.
'I could never do something like that,' Annika exclaimed, swishing her soda and lime around in her glass.
Nobody asked you to. Harper gritted her teeth and forced a smile.
But the worst came from one of the female solicitors, who'd recently returned from maternity leave. Isobel had twins and her husband was a stay-at-home dad. 'How can you give away your babies like that?' she spat, the expression on her face saying she could barely even stand to look at Harper.
'They're not babies. They're not even embryos. They're just eggs,' Elizabeth said in her defence. 'I think it's a very noble thing to do. Infertility can be heartbreaking and I think what you're doing is a priceless gift. Well done.'
Elizabeth raised her glass in a toast and no more was said in opposition; no one dared voice a contrary opinion to one of the partner's wives.
How brilliant does that sound? You want this, oh yes you do. Think of it as a gift to yourself. A well-deserved one!
The Greatest Gift is available in paperback and ebook from these stores now.
If you'd like to learn more about Rachael and her books, please visit her website. You can also connect on Facebook, Twitter using @RachaelJohns, Goodreads and Instagram.