Welcome to Teaser Tuesday, the blog series where I share snippets from new and past releases, and works-in-progress, and occasionally tempt writer buddies to play in my sandpit.
These past few weeks have been a slog in the new Hein house. We're still unpacking. Not because we're lazy or too busy enjoying all the delights of Newcastle, but there's simply nowhere to put stuff. As the removalist said when we lamented over the boxes still in the yard on removal day, "It's not my fault you bought such a small house."
We did buy a small house, but… location!
We'll get there. It's just a matter of downsizing until we fit. Although it's breaking my heart to cull my cookbook collection. I love those books, even the ones I've never cooked anything out of. Setting them aside is like setting aside potential deliciousness and future kitchen joy.
What did lift my heart this past week was news that both The Country Girl and Chrissy and the Burroughs Boy were finalists in the Australian Romance Reader Awards in the Favourite Contemporary Romance section. Not only that, I'm up for Favourite Australian Romance Author and Chrissy is a finalist in the Member's Choice Strongest Heroine category. Whoop! That's bound to cheer a girl up from her bookculling misery.
Looking for some fab books to read? You'll find all the category finalists on the ARRA blog.
So in celebration of Chrissy's strength, let's have a bit of a show of it!
… Chrissy stared again at the photograph and experienced another knot of nerves. She wanted this job to work out, not just for the Ryans but for herself. Her position as marketing and customer service manager posed enormous challenges and opportunities.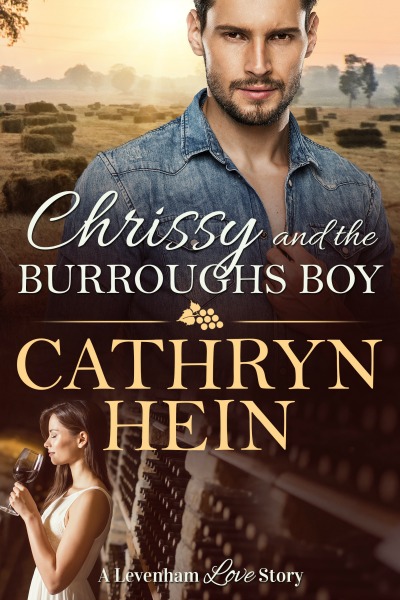 Although she'd be working very closely with the Ryans, the role was Chrissy's to develop however she thought best, and the perfect chance to prove herself. Compared to similar family-owned wineries in established regions, Ryan's production was small, but Levenham's singular terroir and Shaun's oenological skills made their wines special.
There'd be no corporate ladder like her last position, probably no overseas travel, but this was a winegrowing district on the rise and a winery crafting wines that surprised even the most cynical critic. With more of the original farmland earmarked for expansion and new vines scheduled to come into production over the next few years, the potential for market growth was huge. She'd have autonomy, a challenge. The future was bright.
And it was home.
Kai was right. She did have passion, oodles of it, and Chrissy was determined that it would shine through in everything she did.
She regarded the photograph again and winked, then picked up her caramel slice, took a large bite and knuckled down to work.
Chrissy and the Burroughs Boy is available now in ebook and print from:
You can also order personally signed copies direct from me. Just shoot me an email using the contact page.
Want to know how I came to write Chrissy and Nick's romance? Find out in Crushing It, the story behind Chrissy and the Burroughs Boy.