Welcome to my favourite reads for July 2019.
Not many books this month, mainly because I was busy with the Fictionally Yours, Melbourne booksigning event (check out my post on that here) but also because a couple of the books I read were big fat ones. And big fat ones take time!
Choosing a favourite was very hard – they were all excellent – but the gong goes to…
Hooly-dooly, what a read!
The Wych Elm was long – 500+ pages – and rather slow to begin with. There were more than a few moments when I wondered if it was going to be worth it, but it absolutely was. The story is still with me. I can't seem to shake that climax. It shocked me completely.
The Wych Elm is a thriller/mystery that twists and turns and completely mesmerises. Which is interesting because there aren't that many likeable characters, really. Even Toby, our narrator, is a bit of a twat. Likeable because he's good-looking, charming and easy-going but otherwise pretty shallow. Life just seems to fall into place for him. Until it doesn't.
A slow burn, but one I found worthwhile in the end.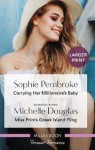 Miss Prim's Greek Island Fling by Michelle Douglas
Oh, this was lovely! Hard to go past Greek island fling at the best of times but this was made extra special by the gorgeous characters.
Audra – the Miss Prim of the title – has suffered a terrible betrayal and retreated to her brother's home on a Greek Island only to find her brother's reckless best friend in situ. Much fun ensues as these two lovelies do their best to not act on their sizzling attraction.
Friends-to-lovers awesomeness. Read it.
Relic by Douglas Preston and Lincoln Child
I've wanted to read one of these Lincoln and Child novels for aaaages. They sound smack in my happy reading zone. Then Relic, book one in the Special Agent Pendergast series, came on sale and I snapped it straight up.
What a blast! This galloped along, with loads of thrills, some cool science, adventuring, good guys and bad guys, and a monster running riot in a revered institution. Great fun, great characters and as for Special Agent Pendergast, he was wonderful. Nice twist at the end too. I'm going to have to read more.
A veeeery close contender for favourite read of the month.
The Chain is generating lots of buzz in the book world at the moment and with good reason – it's a cracker of a read. What a premise! And the opening… woah. It's going to be an awesome movie when they make it.
I love books that make me anxious, even though they're only fiction. It takes a skilled writer to create a physical reaction in a reader and McKinty managed that aplenty with me. I really liked the characters too, they were tough cookies and admirable despite their flaws.
A thrill ride that might make you rethink your social media activities.
.
What wonderful books have you read lately?
.