The Story Behind…
Chrissy and the Burroughs Boy
CRUSHING IT
The urge to write Chrissy and the Burroughs Boy came about simply because I had such a ball writing Santa and the Saddler. Danny and Beth were a joy to create, the extended Burroughs clan was big, loving and fun, and Danny's brother Nick with his pseudo jealousy and cheek seemed to beg for his own romance.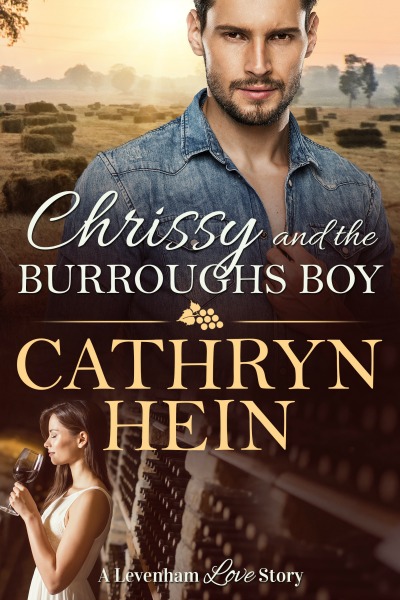 How could I refuse a man as ruggedly delicious as Nick? As Chrissy's friends Alice and Paige remind her, Nick's a deadset hottie and a decent person to go with it, and I'm as big a sucker for a man like that as they are.
My original plan was to write another Christmas themed book, which is why Chrissy is called Chrissy. Somehow that didn't happen, and I'm not sure why. Maybe it was because I started writing the book at the beginning of the Australian Rules Football season, and I had the season of the boot on my brain instead of the season to be jolly. Then again, it could be as basic as me finding footballers sexier than Santas, which I do.
Chrissy and the Burroughs Boy is, in part, a story about high school crushes, and how truly agonising they can be. I don't know about you, but I suffered some pretty painful crushes growing up and did plenty of dumb stuff because of them.
In an early chapter, Chrissy admits to Nick that she used to parade up and down in front of him in her favourite jeans, hoping he'd see her and think "wowsers!" (or the teenage boy equivalent). Guess what? I did that, and my cheeks still burn at the thought. Did my crush notice? Nup. Was realising that my efforts were, and would always be, in vain horrible? You bet.
But that's the thing about adolescence – everything is so damn intense, which is why I guess first crushes and first loves stay with us so strongly. And why you sometimes hear about people who reconnect with their crush at a school reunion or by chance, and whose emotions crash back so hard they throw their current lives away for them. The high is just too strong to resist.
I thought it'd be hoot to turn the tables on Nick and make him the one who develops the crazy crush when he meets grown-up Chrissy. There's justice in it, and it was a lot of fun to write. Chrissy's no love-struck teenager anymore. She's a smart girl with life experience and career goals, and it's going to take a lot more than heroics and a sexy grin to get her attention.
Speaking of Chrissy's career, inspiration for that came, in a small way, from my own life. Roseworthy College, where I gained my agricultural science degree, was Australia's first agricultural college and, being at the edge of South Australia's famed Barossa Valley, always had a strong focus on wine production. Before the 1991 merger with the University of Adelaide, when the oenology, viticulture and wine marketing courses were transferred to the Waite Campus, Roseworthy was world renowned in the industry. The college even had its own winery and vineyards.
I was always jealous of the "plonkies" as these students were called. They'd spend their mornings enjoying fun things like vertical wine tastings while we ag students would be dissecting cockroaches or watching pigs have sex.
If I'd had half a brain I would have swapped courses, but then I probably wouldn't have moved interstate or met Jim, life wouldn't be as it is now, and you wouldn't have Nick and Chrissy to enjoy. And that would be terrible!
---
I hope you enjoyed reading about the inspiration behind Chrissy and the Burroughs Boy, to purchase your copy simply choose from the bookshops below:
Never miss a new release by joining my newsletter team. You'll also receive exclusive access to some gorgeous free stories to enjoy over a cuppa or two.