Welcome to another sizzling instalment of Teaser Tuesday, the series where I share snippets from new and past releases and works-in-progress, and occasionally con author buddies into doing the same.
(If you get the feeling you've read this post before, that might be the case. Some silly person accidentally hit "publish"on it a week early. I unpublished straight away but subscribers would have still received the email.)
The countdown to Chrissy and the Burroughs Boy release is ON!
Yes, only two weeks remain until Nick's and Chrissy's cute and funny romance hits shelves, and I'm so damn excited I keep squeaking. I also keep shoving my print proof of Chrissy and the Burroughs Boy in Jim's face and saying, "Look… LOOK!" while he calmly (if wearily) replies, "Yes, I've seen it."
That poor man, he suffers so for my art. Maybe we should get a dog so I have someone new to harass with my book releases.
Anywayyy…
This week is also conference week. I'll be winging my way to Brisbane tomorrow for five days of hanging with my tribe at the annual Romance Writers of Australia conference. I can't wait. The RWA conference is one of my favourite events and this year it's even more special because Santa and the Saddler is up for a Romantic Book of the Year Award (Ruby). Winners will be announced at the conference dinner on Saturday night. Keep your fingers crossed for me!
Right. On to today's teaser from Chrissy and the Burroughs Boy in which Nick is about to embarrass himself in front of Chrissy, her friends and the entire back bar of Levenham's Australian Arms Hotel.
Nick stood in the shadows of the hall leading to the rear exit, watching Chrissy with her friends and wishing his stomach would stop reacting to the smell of chips that kept wafting from the pub's kitchen. He'd been late out at the farm and it'd been hours since afternoon tea, but he'd been too nervous to eat more than a couple of dry biscuits since arriving home.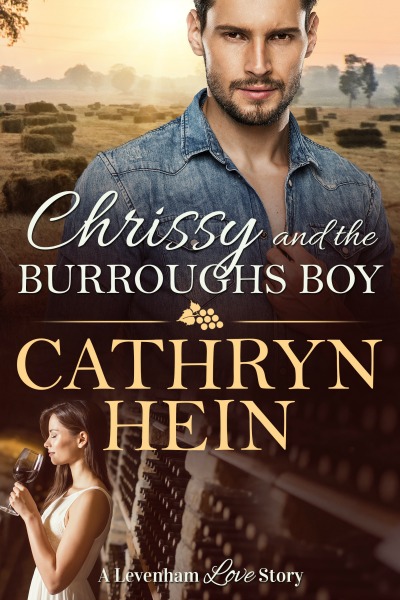 Chrissy was perched on one of the vinyl-covered stools the publican kept scattered in front of the fire, along with a couple of low tables, to make the area more relaxed and lounge-like. Her body was angled towards the door leading to the front bar, and every now and then she'd glance at it before looking quickly away. Nick prayed it was him she was searching for and not some other bloke. That'd really ruin his plan.
Whatever she and her friends were talking about, it was making them animated, with waving hands and laughter and plenty of drinking. From the almost empty bottle of red wine on the coffee table, they'd been at it for a while, too. Wine had stained Chrissy's lips a kissable red and her face was deeply flushed. She bent forward to say something and leaned back with a grin and a wink that shot straight to Nick's stomach and made him forget all about food.
This stunt was going to make him look like a peanut, but what the hell, Chrissy was worth it. Besides, looking like a peanut was the whole point.
Want to know what stunt Nick pulls to impress Chrissy? You'll have to read the book!
Secure your copy of Chrissy and the Burroughs Boy today with a pre-order from:
Signed print copies will be available for purchase direct from me after August 22nd. Details on how to order will be in the release day newsletter. Normal print copies will be available in online stores soon.
STOP PRESS!
Print copies are available for pre-order right now from:
Go get 'em!